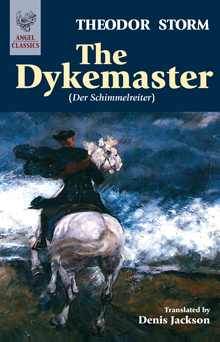 RRP: £9.95
BINDING: Paperback
PUBLISHED: 1996
ISBN: 9780946162543
PAGEs: 160
Theodor Storm
The Dykemaster (Der Schimmelreiter)
Translated from the German by Denis Jackson; afterword by David. A. Jackson
Der Schimmelreiter (1888), here translated as The Dykemaster, is one of the most celebrated works in all German fiction. Denis Jackson's new translation sets out to recreate the full impact of Theodor Storm's masterpiece – a task in which no previous English version has succeeded. The Dykemaster is the tale of a visionary young north Frisian Deichgraf of the eighteenth century, creator of a new form of dyke. The short-sighted and self-seeking community with which he is at odds turns him into a phantom, seen riding his grey along the dyke whenever the sea threatens to break through. The rationalistic storyteller, in a sophisticated narrative structure, belongs to a later age, and what he relates is a veiled critique of the dyke officials of his own day.
The eerie west Schleswig-Holstein coast, with its vast hallucinatory tidal flats, hushed polders and terrifying North Sea, is the setting for a tale which grips from first page to last with its dynamic tensions and shifts of focus, mood and pace. Storm's dense narrative further invites the reader to ask whether progress is possible, how the historical record is established, what parts are played by the rational and the irrational in human existence.
'this tremendous tale, with which Storm took his conception of the Novelle, as epic sister of drama, to unprecedented heights …' – Thomas Mann
'This is a marvellous work … There is nothing better in German fiction prior to the work of Thomas Mann.' –Kirkus Reviews
'Translations of the high standard of this one are more than ever in demand.' – Mary Garland, editor of The Oxford Companion to German Literature
THEODOR STORM (1817–88) was born in the small North Sea coastal town of Husum, where he established himself as a lawyer and spent almost his entire life apart from fifteen years of political exile. His fifty or so novellas grew out of his lyric verse, which includes some of the finest in the language. His intricately wrought, subtle narratives, strongly rooted in time and place, have long made him a favourite author of his fellow countrymen, and the English-speaking world has begun to accord him a place beside better known writers of other nations whose work has long been accepted as classic.