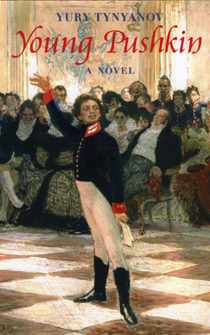 RRP: £15.95
BINDING: Hardback
PUBLISHED: 2007
ISBN: 9780946162758
PAGES: 539
Yury Tynyanov
Young Pushkin
Translated from the Russian by Anna Kurkina Rush and Christopher Rush
Yury Tynyanov's novel on the formative years of Russia's greatest poet was first published in serial form between 1935 and 1943. Tynyanov pioneered a new kind of historical-biographical novel in Russia. 'I begin,' he wrote, 'where documents leave off.' In a blend of encyclopedic knowledge and creative imagination, he thrillingly brings early 19th-century Russia to life – Napoleonic invasion, rapid political change, and a vast gallery of characters, all representations of real life persons. Those who had a significant impact on Pushkin's life include his unusual family, with its African blood stemming from his great-grandfather Abram Hannibal, Peter the Great's protégé who became a distinguished engineer general; leading figures of state and Tsar Alexander I himself; educationists and teachers, peasants and writers, Pushkin's classmates at the Tsar's newly founded Lycée at Tsarskoye Selo. At the centre of it all is the growing Pushkin, explosive, unpredictable, totally absorbed, constantly scribbling verses, having relationships in his teens with women twice his age, living it up in the capital with hussars, actresses and exotic hostesses before being sent into exile for his reckless verse. Tynyanov's novel not only captures Pushkin the impulsive, swift genius, but seems also, astonishingly, to contain his origins and kinship, his relation to Russian history, and his own future. Young Pushkin is the only novel in Tynyanov's planned series on Pushkin's whole life that he lived to complete, and it is his fictional masterpiece. This is the first English translation.
'A sparkling jewel of a historical novel.'– Simon Sebag Montefiore
'A great Russian novel is now available to the English reading public, for which we must be profoundly grateful.'– David McLaurin, The Tablet
'Vivid and fascinating … Young Pushkin is a pleasure to be savoured.'– Philippa Gregory
YURY TYNYANOV (1894–1943) was an influential literary scholar and critic of the 1920s and a leading member of the Formalist group before achieving renown as a writer of historical fiction. He is the author of three novels and a number of short stories and novellas. Keenly aware of the potential of the cinema, he caught the attention of Sergey Eisenstein, whose plans for filming the novel on Pushkin were forestalled by Tynyanov's death. Only one of his novels, translated as Death and Diplomacy in Persia, and two novellas (including Lieutenant Kizhe, subject of a symphonic suite by Prokofiev) have hitherto appeared in English.