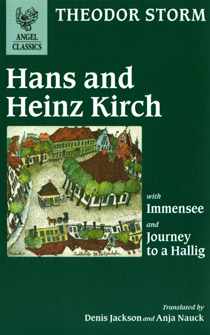 RRP: £9.95
BINDING: Paperback
PUBLISHED: 1999
ISBN: 9780946162604
PAGES: 192
Theodor Storm
Hans and Heinz Kirch; with 'Immensee' and 'Journey to a Hallig'
Translated from the German by Denis Jackson and Anja Nuack
Theodor Storm's fictional achievement goes well beyond the celebrated Novelle Der Schimmelreiter (The Dykemaster in Denis Jackson's translation published in Angel Classics). This selection of three more of his most impressive narratives, two of them appearing in English for the first time, represents three stages in the development of a German writer whose best work ranks with that of Thomas Hardy. Immensee (1850), a love-story whose powerful atmosphere is heightened by all-pervasive symbols and folksong-like verse, has long been a favourite of both the German- and English-speaking worlds. Journey to a Hallig (1871) is the free-roving story of a journey in more than one sense, both a magical evocation of the German North Sea coast in high summer and a layered account of an inner journey back into an old man's past. Hans and Heinz Kirch (1882), one of Storm's masterpieces, is a tragic tale of father-son conflict set among the Kleinbürger mercantile community of the German Baltic seaboard.
Denis Jackson's absorbing introduction and end notes, and maps to two of the stories, will enhance the reader's enjoyment of this poetic, eloquent fiction which is so strongly rooted in time and place.
'The three stories chosen illustrate the development of Storm's style from the early period when he "painted in watercolours" to the more realistic later period when he "began to paint in oils". Particularly welcome is the translation of Hans and Heinz Kirch, one of Storm's major works, here rendered into English for the first time. The translator's introduction provides a brief but informative survey of Storm's life and work and places it in the context of the turbulent politics of the time … Useful maps and 30 pages of end notes are an excellent guide for English speakers unfamiliar with German history and culture. What impresses most of all, however, is the outstanding quality of the translations, which contrive to read like natural English and yet capture beautifully the sense and rhythm of Storm's German.' – Forum for Modern Language Studies
THEODOR STORM (1817–88) was born in the small North Sea coastal town of Husum, where he established himself as a lawyer and spent almost his entire life apart from fifteen years of political exile. His fifty or so novellas grew out of his lyric verse, which includes some of the finest in the language. His intricately wrought, subtle narratives, strongly rooted in time and place, have long made him a favourite author of his fellow countrymen, and the English-speaking world has begun to accord him a place beside better known writers of other nations whose work has long been accepted as classic.